Course Objectives
Increase your income with better presentations of purchase terms and smarter negotiation skills.
Desking and Deal Structuring Strategies Used by the Industry's Most Profitable Dealers.
Non-Confrontational first Offer Presentations Anyone Can Deliver!
Powerful and Transparent second Offer Presentations Designed to Close Deals Fast
Reasonable Trade-in Value Presentations Customers Agree With
Friendly Negotiation Scripts and Strategies That Work and are Honest!
Finance vs. Lease Presentations with Choice Close Techniques
One Pay Lease vs. Cash Presentations That Close Deals Faster for More Profit
Lease Renewal Strategies and Presentations
Payment, Price, and Term Objection Handling Techniques that Customers Love
Graduates of this course earn certification in Sales Manager Desking, Presentations and Negotiations
College of Automotive Management certificates are earned from verified skill development and 100% test scores.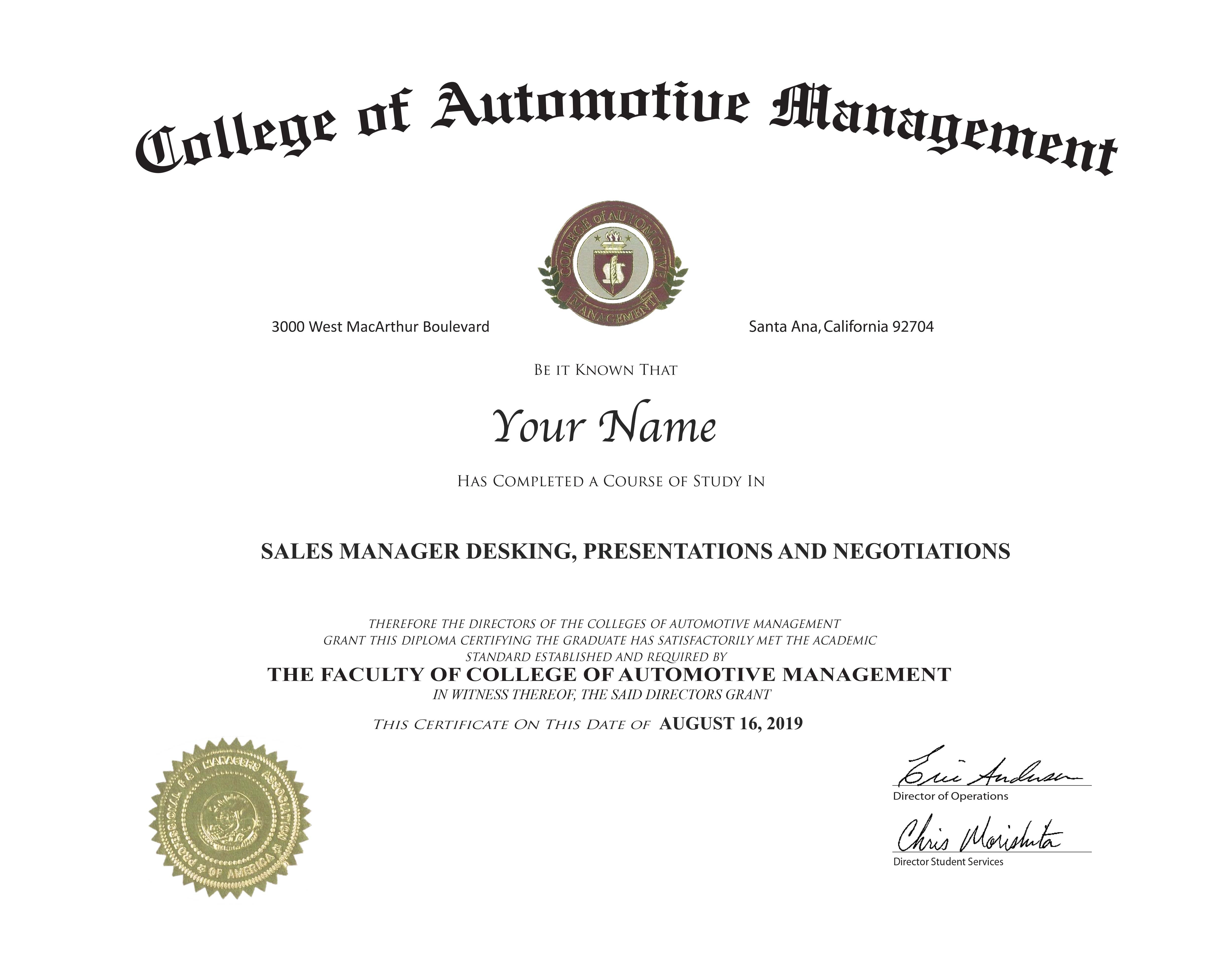 Reviews
"I feel that the desking method presented is a great way to limit the time during negotiations between the customer, salesperson and desk. It clarifies all the options, leaving the customer feeling more in control of the buying process... you will have a higher SSI/CSI score."
John A., Sales Manager
"I really like the desking tool it's very easy to use and is a useful tool especially on leases and showing the package disc it makes the discount standout and it's easy for customers to just pick what they want. The scripts are great for non-confrontational selling and helps lower customers guard and allows us to get to the real issue."
Al Joseph, General Sales Manager
"The first technique I have implemented so far is getting rid of some terms during negotiations such as 'If I could, would you?' This course has put me back in control of what used to feel chaotic at best during the pencil process. I've already seen a difference in my closing abilities."
Ron N., Professional Salesperson
"This portion of the course has been by far the most useful to my staff. The negotiation tactics are very current and in line with what consumers would 'like' to hear. It is wonderful that my employer is providing a second and impartial education and training guide to the staff here new and old."
Daniel Cole, Director of Sales
"Professional Desking/Negotiating is Excellent. It was a great idea and by providing this course, it has helped me to negotiate and close deals better and have fun doing it. I have learned to be friendly with my customers and show that I am actually on their side and will do everything in my power to earn their business. Overcoming objections and how to appraise their trade and working out the numbers in a friendly manner is very important and also the fact that I just present numbers whether from the customer to the desk or vice versa. Even if I couldn't close a deal, I learned that the customer should leave the dealership on a good note and ask for future business. The most important factor to me was accepting the fact that I must show a happy face and be non-confrontational and always be on the customer's side."
Khosrow Amirmonazah, Professional Salesperson
"This was a great course... for me to teach as a training tool to my sales staff and close more deals. I did like the desking plus tool that made a quick and variety of option to the customer, with the circle which one works for you. I do an A. & B. pencil when I desk -- this just gave a whole lot more options and faster."
Andrew Bergstrom, General Manager
"I rate this course, professional desking/negotiating as excellent. The course kept everything simple and kept reminding me to stay on the customer's side -- and to tell them that was my job -- to make them happy with their experience. The word scripts are great - I've written them down and plan to practice them until they become unconscious."
Brian Freberg, Professional Salesperson
More information
Sales Managers agree that the College's suggested methods reduce time spent negotiating, increase CSI scores and increase closing ratios & profits! Salespeople learn to abandon old school verbiage, increase their closing abilities and gain more control over the negotiation process. The College's suggested negotiation methods are what "consumers would like to hear." Content based upon the principles of the golden rule... Do for others what you would want others to do for you. These methods are "fun" for the salespeople and help them build personal relationships with their customers. Management can use the online training as a tool to easily train existing and new staff with a consistent method and message. The word tracts and scripts are so simple that even "green peas" can learn them quickly and discuss terms with confidence.